Chanel

bags
$ 890

$ 2,490

$ 5,590

$ 1,020

$ 4,310

$ 880

$ 3,730
Are you looking for a particular item?
Get an alert as soon as it's available.
Set up an alert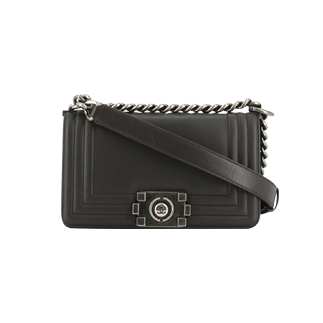 Analysis report
View quotes for bags Chanel thanks to almost 300,000 sales results decrypted by our expert
Expertise Collector Square and Chanel serial number guide
Collector Square offers you more than 500 Chanel bags, which, after having been carefully selected for their perfect condition and desirability, are appraised and authenticated by our expert Jérôme Lalande, renowned for his expertise in fine leather goods.
Starting in the mid-1980s, each Chanel bag was sold with an authenticity card with an embossed serial number. The latter also appears on a sticker placed on the inside lining of the Chanel bag.
From the 2000s, this sticker indicating the serial number bears the Chanel logo consisting of a double C and is protected by a hologram film so that the number cannot be modified or erased. This sticker is now commonly known as a "hologram".
The sticker, Chanel logo and hologram design may vary slightly depending on the date of manufacture of the Chanel handbag.
Some second-hand Chanel bags do not have a hologram sticker, either because they were marketed in this way by Chanel (bags sold by Chanel before the appearance of holograms or in the context of private sales), or because the hologram sticker, designed so that it cannot be repositioned, has naturally come off.
Find out more