The history of
Bulgari
jewellery
Bulgari jewellery
In Rome's via Sistina quarter, Sotirio Bulgari opened his first store in 1884. In the beginning, this master Greek gold and silver smith gathered and created valuable objects. Inspired by this origin and antiquity, the current name of the House transcribed the Italian pronunciation of the name of the founding artisan "Voulgaris," adding a 'v' instead of a 'u' in writing, based on the ancient Latin alphabet. In 1905, helped by his sons Costantino and Giorgio, he inaugurated a bigger and more prestigious boutique in the famous Via Condotti, one of the most elegant in Rome and Italy, where a demanding clientele existed. This shop is still the soul of the Bvlgari House today.
At that time, the shop displayed a sign reading "Old Curiosity Shop." An antique store, it brought creations from the House together, an unusual collection of objects. So he attracted an Anglo-Saxon clientele, and in particular young men from good families. These were art lovers, collectors and curious people who had to take a "Grand Tour," to complete their education since the 18th century. The "Grand Tour" included visiting Italian and Greek sites, monuments and curiosities, because Greece and Italy were the cradle of classical and humanist culture.
At the beginning of the 20th century, Costantino and Giorgio showed an interest in gems, jewellery-making and the creation of watches. In the 1920s, the Bvlgari House saw a turning point. Costantino and Giorgio created a unique style inspired by Greco-Roman classicism, the Italian Renaissance, and the Roman school of silversmithing from the 19th century. In 1932, they took back the direction of the Bvlgari House and enlarged the via Condotti boutique. Sotirios died in 1934.
The House's style is distinguished by the size and peculiarity of the gems used, the original way the colours are combined, and the innovative character of the materials used.
In the 1930s, the Cinecittà studios were established in Rome, and with them the film industry developed. After World War II, Rome reunited with worldly life and the world. American cinema and its major productions invested in locations and the city saw an influx of Hollywood and European movie stars: Elizabeth Taylor, Marlene Dietrich, Clark Gable, Gary Cooper, Audrey Hepburn, Sophia Loren, Gina Lollobrigida... In the 1950s and 1960s, the House of Bvlgari's creations seduced this world of cinema and the jet set. Carried by this enthusiasm, Bvlgari opened other boutiques in New York, Geneva, Monte Carlo and Paris during the 1970s. Since then, the House of Bvlgari's reputation never ceased to assert itself and expand.
Some jewellery collections are considered to be "timeless" jewellery, inspired by fine antique silversmithing, and distinguished like archaeological finds (the Spiga bracelet and the Monete necklace...) or from a very contemporary world, with the essential collection B. Zero.1, whose ring was revisited in 2011 by the artist Anish Kapoor.
Are you looking for a particular item?
Get an alert as soon as it's available.
Set up an alert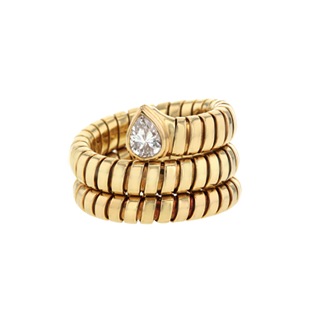 Analysis report
View quotes for jewellery Bulgari thanks to almost 300,000 sales results decrypted by our expert