The history of
Louis Vuitton
bags
Louis Vuitton bags
Louis Vuitton has a long and rich family history. Its founder came from the Jura to Paris and was taken on as an apprentice travel trunk-maker with a box and trunk maker and packing company. His skill, mastery and good taste were soon recognised and he was entrusted with orders from important clients, including making a toilet case for Empress Eugénie.
Armed with this recognition, Louis Vuitton founded his own company in 1854 and opened his first shop in Place Vendôme. Times changed and travel and transport intensified. The curved top trunks that had been used for centuries were unsuited to new practices and the stacking of luggage, in particular. The ever inventive Louis Vuitton created a flat top trunk which was more suitable for the times and whch was soon a resounding success. His new leather trunks accompanied a whole new generation of wealthy travellers, driven by the expansion of empire, the development of trading posts, commerce, the colonies and a curiosity for foreign lands.
In 1870, Louis' son, George, set off to explore the world, starting with London and New York, whilst the company's clientele grew to include nobles from the courts of the East and Far-East. From 1886, he fitted his trunks with secure locks to foil lock-pickers. From 1888 the company began using the famous signature Ebène check design on Louis Vuitton luggage. In 1896, a new coated, waterproof cotton canvas which was particularly hard-wearing and elegant, was perfected. It consisted of a high quality cotton and linen weave with a rubber coating. In the same year, the most iconic of all the Louis Vuitton prints appeared: the Monogram with the company initials 'LV'. Initially the colours were black and beige, but now it comes in a range of fabrics and colours, such as the Damier in Azur or Ebène and Epi leather, etc.
In 1914, Georges Vuitton had a marvellous building constructed on the Avenue des Champs-Elysées which became the flagship for Louis Vuitton.
Bernard Arnault became head of the company at the end of the eighties and chose to diversify the offering of the company which became the premier brand in the LVMH Group. Since then, Louis Vuitton has been offering accessories, shoes, timepieces, jewellery, perfumes and ready-to-wear. Recently it has also moved into lifestyle collections.
The brand really took off in 1997 when Marc Jacobs arrived to take over creative direction of Louis Vuitton. This New York designer mixed the elegant with the casual, history with modernity, homage and off-beat, glamour and humour to design ready-to-wear and shoe collections that would radically refresh the image of the brand whilst drawing on its heritage.
Louis Vuitton has become a fashion brand with worldwide success. Its muses are chosen from the ranks of celebrities and it is increasing collaborating with people from the contemporary art world to produce 'capsule' collections, i.e. in limited editions for a brief period of time. A first in the history of fashion! Stephen Sprouse, the artist and fashion designer, famous for his street-style, designed the famous 'Graffiti' range of handbags with Marc Jacobs in 2000. In 2002, the English illustrator, Julie Verhoeven, worked with Marc Jacobs on bags known as the 'Contes de fées' (fairytales) collection. In 2003, 'Monogram Multicolore' was launched with Takashi Murakami who drew part of his inspiration from the world of Japanese mangas. This collaboration with the Japanese artist was repeated in 2005 with the 'Monogram Cerises' or 'Cherry Blossom' line, a silk-screen printing technique on monogram canvas. In 2007, the artist Richard Prince worked with Marc Jacobs on a canvas that used the overprinting and transparency of logos to create the 'Monogram Jokes' and 'Monogram Pulp' designs. In 2012, the famous Japanese artist Yayoi Kusama, whose style is very radical, abstract and graphic, produced the 'Dots Infinity' range in reference to his obsession with spotted patterns.
Are you looking for a particular item?
Get an alert as soon as it's available.
Set up an alert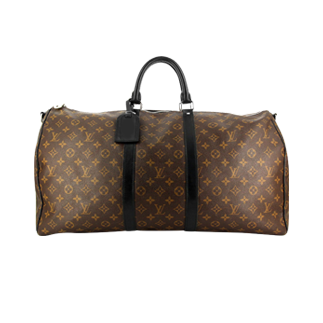 Analysis report
View quotes for bags Louis Vuitton thanks to almost 300,000 sales results decrypted by our expert