Hermès

Kelly

bags
Are you looking for a particular item?
Get an alert as soon as it's available.
Set up an alert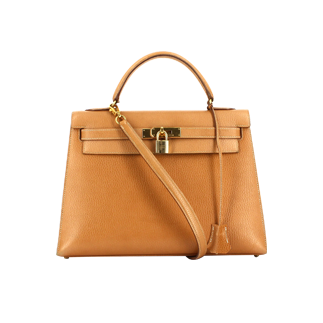 Analysis report
View quotes for bags Hermès Kelly thanks to almost 300,000 sales results decrypted by our expert

History and quote
THE SECOND-HAND HERMES KELLY, AN AVERAGE PRICE INCREASE OF 240% IN 10 YEARS
Models of Kelly bag
The Kelly Bag comes in more than ten sizes, the most commonly known are the 28 cm, 32 cm and 35 cm. It is available in twenty materials. Twenty years ago, the Kelly bag was only made in five colours: brown, black, red, green and navy blue. Today it is available in more than fifty colours.
Special features of the Kelly
The Kelly bag is trapezoidal with a handle, onto which, from 1960, they added a detachable strap, allowing for the bag to be carried by hand or on the shoulder. It closes using two exterior buckles and a padlock. It is equipped with a strong leather lining, as well as four studs fixed to the base, allowing it to be rested on the floor. Its unparalleled quality requires the same craftsman to work on the bag for eighteen to twenty-four hours.
THE COST OF A SECOND-HAND HERMES KELLY
Leather and crocodile are the two main materials from which the Kelly is made: leather makes up 66% of Kelly bags sold at auction, and crocodile, 25%. The leather Kelly (in various sizes and colours) sold on average for €1,907 in 2006 in contrast to an average of €5,708 in 2014, representing a 200% increase. A Kelly in excellent condition or in original colours, can cost between 20 and 30% more.
Due to the wait required to get hold of a new Kelly, it is not uncommon to see the auction price exceed that of a new Kelly. Unsurprisingly, the rarest Kelly bag on the market are also the most expensive. A buyer will pay on average €6,423 for a pink Kelly, one of the rarer colours of Kelly seen at auction. The taupe grey Kelly is also very well-known: also known as "etoupe", the iconic grey of the house, it is traded for an average of €7,243 at auction.
All the figures of this study emanate from the databases of LuxPrice-index© , who survey the results of more than 200 000 auctions from the main auction houses around the world across a 12 year span.
Find out more