Hermès

Birkin

bags
Are you looking for a particular item?
Get an alert as soon as it's available.
Set up an alert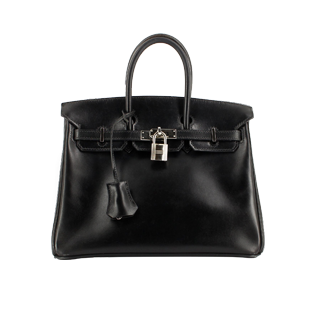 Analysis report
View quotes for bags Hermès Birkin thanks to almost 300,000 sales results decrypted by our expert

History and quote
SECOND-HAND HERMES BIRKIN, A MIX OF MODERNITY AND ELEGANCE
Models of Birkin bag
The Birkin bag comes in four main sizes: 25 cm, 30 cm, 35 cm and 40 cm. The Birkin comes in some twenty different materials including grained calfskin, veau doblis, ostrich leather and lizard skin, with some fifty colours to choose from.
Special features of the Hermès Birkin
A practical and spacious bag, the Birkin's handles are fitted so it can be carried in the hand or on the wrist. It closes with two outer lanyards containing the lock. The bag's leather lining ensures it is resistant and keeps its shape, while four studs on the base mean the bag can be placed on the floor. Its exceptional quality (20 hours of work carried out by a single craftsman) makes it an extremely rare bag that customers must order several years in advance.
THE COST OF A SECOND-HAND HERMES BIRKIN
The Birkin has continually developed over the years and seen its price multiply for all models by 2,3 in seven years. Leather and crocodile skin are the most used materials for the Birkin with 69% and 18% of total bags respectively. In 2007 you had to spend 4260 € on average for a leather Birkin, and almost three times as much – 10 683 € - in 2015.
The value of a crocodile-skin Birkin has also risen sharply over the past three years: while it was worth 27 536 € in 2007, by 2015 the price had risen to 46 402 €. The marked fall in 2009 was due to the subprime crisis, which had a more visible effect on crocodile than on leather because of its higher price.
All the figures of this study emanate from the databases of LuxPrice-index© , who survey the results of more than 200 000 auctions from the main auction houses around the world across a 12 year span.
Find out more