The history of
Rolex
watches
Rolex watches
The famous Swiss watch-maker, Rolex, was founded in 1905. The company was headed by Hans Wilsdorf who revolutionised the world of horology by inventing one of the first wristwatches. Wristwatches were more practical, suitable for modern life, better for playing outdoor sports and driving cars, and were a real turning-point in the history of fashion and style that would gradually replace pocket watches.
In 1908, Wilsdorf renamed his company 'Rolex', a short, incisive, international sounding name which would become known all over the world. Rolex watches also stood out from the crowd because of their technical capabilities. From 1926 the first waterproof case appeared. It could withstand thermal shocks and dust and met the expectations of a new active generation of lovers of more physical sports, who craved modernity and technical innovation. Amongst the new Rolex watches, the sport-chic style of the Oyster collection was a particular success. A young Londoner completed a cross-Channel swim with one of the watches from this collection on her wrist. The resistance of Rolex watches was thus demonstrated and success was assured. There followed several versions of the Oyster, including the Oyster Perpetual Datejust, which showed the date for the first time, in 1945, and the Oyster Perpetual Submariner, the first diver's watch to be waterproof to 100 metres, in 1953. The Explorer appeared in the same year, a watch that could withstand extreme temperatures and thermal shocks. In 1954 the Oyster Perpetual GMT Master pilot's watch was launched. It showed the time in two different time zones (at three and six o-clock). In 1956 came the Oyster Perpetual Day Date, which showed the date and day of the week. The Cosmograph appeared in 1960 with a tachometer scale on the bezel. In 1967, the Deepsea diver's watch was presented which was waterproof and equipped with a helium valve. In 1971 the Explorer II, designed for speleologists, was launched, it included a new complication - a 24 hour indicator on the fixed bezel. Further designs introduced new features: the Turn-o-graph which had a bi-directional bezel and the Milgauss which could withstand magnetic fields.
In 1960, Hans Wilsdorf died and André Heiniger became head of Rolex. In 1992, André Heininger's son took over from him and continued the strategy initiated by Hans Wilsdorf, based on the design and manufacture of high-end horology. Today the Rolex company is an iconic brand and has achieved worldwide success. Its collection includes 170 designs in 3,200 possible combinations.
Are you looking for a particular item?
Get an alert as soon as it's available.
Set up an alert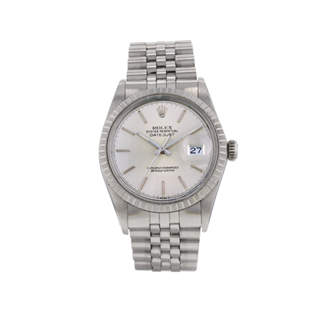 Analysis report
View quotes for watches Rolex thanks to almost 300,000 sales results decrypted by our expert