Chanel

Timeless

bags
Are you looking for a particular item?
Get an alert as soon as it's available.
Set up an alert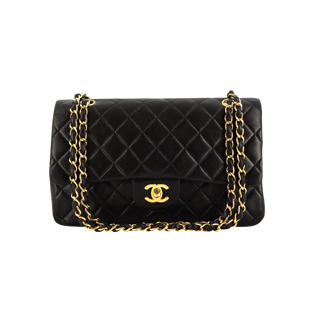 Analysis report
View quotes for bags Chanel Timeless thanks to almost 300,000 sales results decrypted by our expert

History and quote
THE CHANEL TIMELESS BAG, A TIMELESS CLASSIC
Models of Timeless bag
The Timeless classic exists in four sizes. Nevertheless, a lot of seasonal versions were with different sizes, more or less rectangular. Those variations make the Timeless a classic and a it-bag, always fashionable. If the most common version is made of quilted leather, this must-have is also available in python leather, jersey, crocodile leather or lurex.
The special features of the Chanel Timeless
The Timeless is a bag within a bag, with two main pockets as well as several smaller pouches, one of which is perfectly shaped to hold the famous Chanel lipstick. The rounded clasp displays the two entwined Cs of Chanel's logo, and the dual-metal chain is interwoven with the bag's cream leather. The Timeless also has a back pocket with curved edges in the shape of a smile for holding coins.
THE PRICE OF A SECOND-HAND CHANEL TIMELESS
If the price of the Timeless on the second-hand market has increased by 107% between 2010 and 2014, the growth rate of the Timeless may vary by twice as much, depending on its state, its colour and its material.
The most impressive increase in price is noticeable on the beige leather Timeless: its price has increased 2.5 times in just 4 years! Just behind it, the Timeless in black leather has doubled in price between 2010 and 2014. We have also noticed a large rise in the white leather Timeless, which has seen its price increase by 60% on the second-hand market.
All the figures of this study emanate from the databases of LuxPrice-index© , who survey the results of more than 200 000 auctions from the main auction houses around the world across a 12 year span.
Find out more