The history of
Louis Vuitton
Keepall
Louis Vuitton Keepall bags
This deep and practical bag is the travel bag par excellence.
The Keepall perfectly embodies a modern way of travelling. It was designed in the thirties, at a time when the trend changed from the unwieldy trunk that was unsuitable for modern life, and appealed to wealthy people who were increasingly mobile and eager to travel, keen on sport, leisure and speed. The jet set was just beginning to emerge with the coming of air travel! The Keepall became part of this trend that would mark the century.
It is still the perfect travel bag and a great classic from the Louis Vuitton brand. Its comfortable, natural leather 'Toron' handles, its great capacity, its easy to stow shape and its curved lines make it a bag that is both elegant and practical. It keeps everything secure thanks to its small, gilded brass padlock that keeps the zip firmly closed.
The Keepall is an icon of the house of Louis Vuitton and has been remodelled by contemporary artists for numerous capsule collections.
The Keepall comes in several sizes: 45, 50, 55 and 60 cm, in Monogram canvas and Epi leather of different colours.
The Keepall is also available with or without a shoulder strap.
Are you looking for a particular item?
Get an alert as soon as it's available.
Set up an alert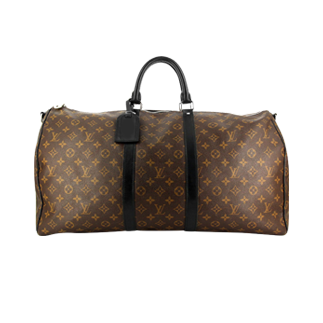 Analysis report
View quotes for bags Louis Vuitton Keepall thanks to almost 300,000 sales results decrypted by our expert