The history of
Chanel
2.55
Chanel 2.55 bags
The 2.55 bag is a great classic from Chanel which has been raised to iconic status by celebrities and ordinary women the world over.
It was designed in February 1955, which explains its name. The 2.55 is the embodiment of Coco Chanel's opinion on accessories: that they should be capable of finally freeing a woman's body instead of harming it or weighing it down. The 2.55 is the result of an idea that Coco Chanel had in 1920 when she saw soldiers' bags. She decided to make a shoulder bag for women, which was an unusual way to wear a bag in the world of high fashion at the time.
The 2.55 is more than a bag, it embodies Coco Chanel's spirit of freedom and elegance. Every detail of this bag refers back to her personal story. Thus, the burgundy leather interior is a reminder of the uniforms of the convent where she was brought up. The gold or silver plated brass chain, that can be used as a handle or shoulder strap, was inspired by those worn around the waists of the women at the convent to which they attached their keys. The rectangular clasp of the 2.55 was named the 'Mademoiselle' by Coco herself because of her choice never to marry. The quilted pattern of the aged calfskin leather is a reminder of the stained glass windows in the Abbaye d'Aubazine that she used to attend when she was at the convent. The small zipped pocket on the flap is like the one that Coco used to hide her secret love letters. Lastly, there are two overstitched letter Cs on the inside of the flap, the Chanel logo.
With its two flaps, the 2.55 is a burgundy bag inside a black bag. Its many compartments provide space for all a woman's essential items. In addition to the aforementioned zipped pocket, the 2.55 has a back pocket, a front pocket and three interior bellows pockets, including one tiny pocket specially designed to discreetly store a lipstick. The 2.55 is rectangular and comes in three sizes: 24x16x7 cm, 28x17x8.5 cm and 32x19x9.5 cm.
It is often confused with Chanel's Timeless bag and they do have several similarities, but compared to its successor, it has a different clasp and its chain is not interwoven with leather.
Are you looking for a particular item?
Get an alert as soon as it's available.
Set up an alert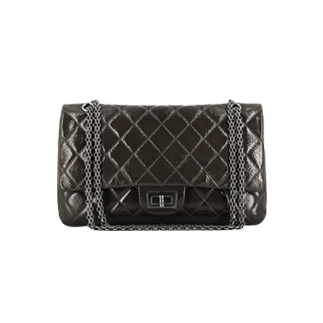 Analysis report
View quotes for bags Chanel 2.55 thanks to almost 300,000 sales results decrypted by our expert