The history of
Louis Vuitton
Speedy
Louis Vuitton Speedy bags
The Speedy, a true classic from Louis Vuitton, was designed in 1933.
Its continued success ranks it amongst the most timeless and famous items in luxury leather goods. It is both elegant and practical and can be worn for an evening out or for travelling and look equally chic.
It was designed to meet the taste for sport, travel and mobility that characterised the thirties. The Speedy has rounded leather handles and the later models also have a shoulder strap. It fastens with a zip and there is a gold-plated brass padlock and key for extra security. It has a large capacity and comes in four sizes: 25, 30, 35 and 40cm. There is a brass ring that allows the owner to customise it by adding interior pouches attached with snap hooks.
The Speedy comes in a range of colours and materials: Monogram canvas, multicoloured Monogram, Azur or Ebène Damier canvas and Epi leather.
The Speedy is an iconic Louis Vuitton bag that has appeared in many guises in capsule collections by contemporary artists.
Are you looking for a particular item?
Get an alert as soon as it's available.
Set up an alert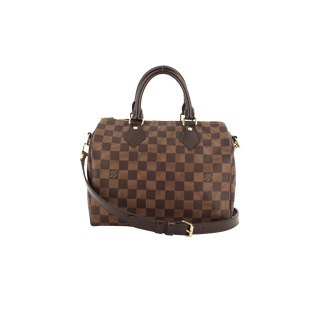 Analysis report
View quotes for bags Louis Vuitton Speedy thanks to almost 300,000 sales results decrypted by our expert