The history of
Hermès
Haut à Courroies
Hermès Haut à Courroies bags
A predecessor of the famous Kelly bag, the "HAC" or "Haut à courroies" bag by Hermes first appeared in 1892 and would go on to inspire the design of the Birkin bag. The HAC was originally aimed at cavalry soldiers who could store their boots and saddles in it. It was an immediate success and established the reputation of the House of Hermes throughout Europe, starting an unprecedented success story for the brand.
Stylistically very close to the famous Birkin Bag, the HAC is recognizable by its rectangular clasp and its perfectly rectangular faces. Although the HAC has been available as a handbag since the 1980s, the most common HAC model is the travel bag in 45, 50, 55 or 60 cm sizes, accounting for 62% of HAC models offered at auction.
Are you looking for a particular item?
Get an alert as soon as it's available.
Set up an alert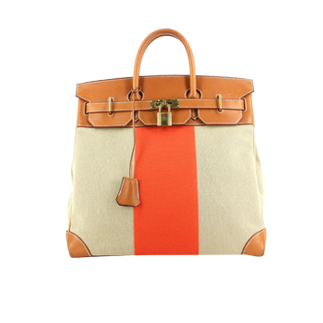 Analysis report
View quotes for bags Hermès Haut à Courroies thanks to almost 300,000 sales results decrypted by our expert