Cartier

Pasha

watches
Are you looking for a particular item?
Get an alert as soon as it's available.
Set up an alert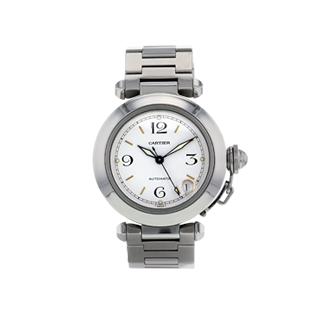 Analysis report
View quotes for watches Cartier Pasha thanks to almost 300,000 sales results decrypted by our expert
History and quote
THE CARTIER PASHA, A WATCH THAT COMBINES ELEGANCE AND ROBUSTNESS
The Pasha watch models
Without changing its own characteristics, the Pasha progresses over time with different horological complications: The Pasha chronograph, released in 1986, is equipped with three counters and three cabochons, the Pasha grille, launched in 1997 for Cartier's 150th anniversary, is equipped with a stainless steel railing covering the dial, the Pasha Golf has six cabochons, allowing the owner to count golf points.
Special features of the Pasha by Cartier
Round shaped, the Pasha has the following characteristics: a round dial with vendômes ties, a screwed caseback, a crown set with a security cabochon garanteeing water resistance.
THE PRICE OF A PRE-OWNED CARTIER PASHA
To acquire a steel Pasha chronograph, an enthusiast in 2005 had to pay an average price of €1,221. In 2014, he or she would need €2,781, an increase of 130% in its value. A check of the watch and guarantee should cost around €500 more.
The meca-quartz movement, that some Pasha Chronographe have, was created by Jaeger-LeCoultre with Cartier's collaboration. Its particularity is to combine the facility of a quartz movement for hours and the complexity of a mecanic movement for the chrono. This movement celebrates the birth of a new horological mechanism.
All the figures of this study emanate from the databases of LuxPrice-index© , who survey the results of more than 200 000 auctions from the main auction houses around the world across a 12 year span.
Find out more