The history of
Rolex
GMT Master
Rolex GMT Master watches
History of the Rolex GMT-Master watch
In 1954, the first GMT (Greenwich Meridian Time) reference appeared: the 6542. This watch was initially designed for airline pilots working for Pan American World Airways to meet their need for a second time zone. The latter is indicated with a central arrow-shaped hand that makes it possible to read the time on the exterior bezel, which has a 24-hour display that can be adjusted thanks to a bidirectional rotating graduated bezel. The watch also features a date window at 3 o'clock. Boasting a two-colour Bakelite bezel and occasionally a white dial for Pan American Airlines pilots, the reference was manufactured for 5 years and subsequently replaced by reference 1675, which was made for more than 20 years.
The reference 16750 was released between 1981 and 1988 and followed by the 16700 (transitional reference), then the 16710 in 1989, which featured various bezels: "Pepsi" (blue and red), "Coke" (black and red) and "Batman" (black and blue). Finally, the latest version, presented in Basel in 2017 and featuring a ceramic bezel, helped increase the popularity of this mythical watch.
Value of the Rolex GMT-Master
Rolex GMT-Master watches are a must when it comes to luxury watches on the second-hand market. According to LuxPrice-Index, 5% in volume of Rolex watches sold at auctions are Rolex GMT-Master watches. As such, the average price of a Rolex GMT-Master has multiplied by 10 between 2003 and 2016, for all models on the second-hand market.
As with all watches available on Collector Square, Rolex GMT-Master watches are entirely examined, appraised, checked and guaranteed for 1 year by our specialist watchmakers in our workshop. The movement is monitored to ensure its authenticity based on its reference and age. All our Rolex GMT-Master watches are dispatched worldwide within 24 hours.
Are you looking for a particular item?
Get an alert as soon as it's available.
Set up an alert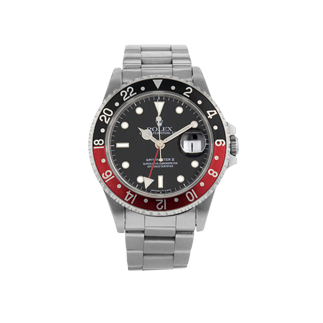 Analysis report
View quotes for watches Rolex GMT Master thanks to almost 300,000 sales results decrypted by our expert