The history of
Rolex
GMT-Master II
Watches Rolex GMT-Master II
History of the Rolex GMT-Master II watch
At the end of the 1980s, the first Rolex GMT-Master II was released (reference 16760), boasting a rapid date and an independent 24-hour hand. A model particularly sought after by collectors, the Rolex GMT-Master II remains a safe investment on account of its value not decreasing with time.
As with all watches available on Collector Square, Rolex GMT-Master II watches are entirely examined, appraised, checked and guaranteed for 1 year by our specialist watchmakers in our workshop. The movement is monitored to ensure its authenticity based on its reference and age. All our Rolex GMT-Master II watches are dispatched worldwide within 24 hours.
Are you looking for a particular item?
Get an alert as soon as it's available.
Set up an alert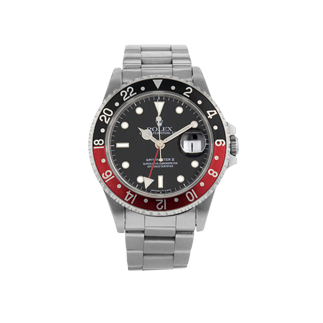 Analysis report
View quotes for watches Rolex GMT Master thanks to almost 300,000 sales results decrypted by our expert